Drilon Forbes Park Mansion named after stepdaughter
By all accounts, the Senate of the Philippines' top man, Senate President Franklin M. Drilon, is a very blessed and lucky man. His father was in the Philippine National Bank during the time of the strongman, the late Pres. Marcos. His uncle a fraternity brod, was appointed top official and was very much respected by Marcos.
Sen. Drilon himself joined one of the law offices most favored during the regime of Marcos, ACCRA LAW OFFICE. From Accra Law Office, where he and the late presidential aspirant Raul Roco represented and maneuvered intelligently so that the assets of Marcos will be safely hidden in layers and layers of paper work, Franklin Drilon was thrust into government after Edsa 1 Revolution by ex-Pres. Cory Aquino.
Drilon established himself well enough in the Cabinet of Cory to become Labor and Justice Secretary and then Executive Secretary. Thereafter he was elected Senator. It was a complete metamorphosis from being a Marcos Loyalist to a powerful administration man in the post-EDSA Revolution 1 period where enemies of the dictator were the dominant force in government. Later, in 1999 he was even touted by his friends and relatives as a dark horse to the presidency.
Sen. Drilon almost has everything he had ever dreamed of in life. He is a millionaire -- in fact, a millionaire many times over. He is one of the valued players in the stock market in that he co-owns companies in the oil industry and other fields of business whose shares have been offered to the public. His brother Cesar heads Mayor Jejomar Binay's Ospital ng Makati; his other brother, Julius, is the No. 2 man in the Department of Agriculture and has been since the time of former President Joseph Estrada when Drilon and the jailed ex-president were very good allies and close neighbors in North Greenhills; while his stepchildren and children will soon be well into establishing themselves in society.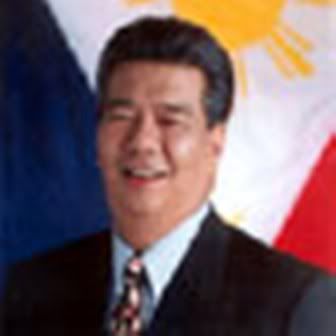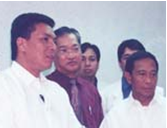 Franklin and brothers Julius and Cesar
His involvement with the Accra Law, and later being part of Cory's government, allowed Drilon to own shares of stock in formerly sequestered business outfits allegedly owned by the late strongman, Pres. Marcos and his cronies such as MARSTEEL and other non-descript companies connected to the late President's family or their cronies and friends. Among these companies are: Seafront Petroleum, Balabac Resources and Holdings Co. (engaged in gold mining in Benguet), Philippine Long Distance Telephone Co. (purported to have been infused with multi-millions of funds of Mrs. Imelda Romualdez Marcos and her family and was also sequestered by the Presidential Commission on Good Government - PCGG), San Miguel Corp. (until recently, a PCGG-sequestered company), Pilipino Telecoms (owned subsidiary of sequestered company PLDT), Cebu Holdings Corp. (ownership not determined). Drilon's declared assets in these companies is only about Five Million Philippine Pesos (Php 5,000,000) but the sum of these shares of stocks and other properties and holdings could possibly run to more after an accounting is done in earnest. Drilon also owns hundreds of thousands of shares in the company UNIOIL RESOURCES & HOLDINGS CO., INC. (UNI) that could be worth millions in Philippine currency today. Furthermore, Unioil kept its money in the till, even going into trouble with the law for not paying taxes and engaging in technical smuggling.
It was also reported by the business community that Drilon successfully railroaded the Iloilo International Airport Project so that he stood to collect more than one hundred million in skim and bribes from contractors and suppliers of that project.
Drilon's first wife Victoria Calvo-Drilon died and he married Mila Obias Serrano of Bicol, widowed by the death of her husband Vic Genuino. Mila had three children with her first husband.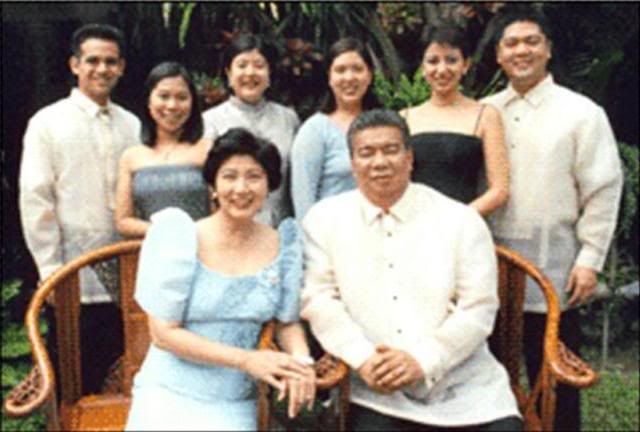 Frank and Mila Drilon with children from former family
Mila's children, Eduarda, and her siblings live in Polk Street, only about a hundred meters away from the residence of Frank at 107 Kennedy St., North Greenhills. Due to the frequent stepfather visits the old Genuino residence, by now the residents and the workers along Polk Street and in other households in North Greenhills call the Genuino house also as Drilon's property. Very recently, the good senator admitted over a broadcast program that indeed he has a stepdaughter named Eduarda, the daughter of Mila Drilon by her first husband, Vic Genuino.
Map showing Kennedy and Polk Streets intersecting and close to each other.
Surprisingly, the senator also got very uptight and jumpy and his speech blubbered over the same radio program when it was mentioned that Eduarda S. Genuino, is the owner of record of a newly purchased house and lot at 17 Kawayan Road, North Forbes, Makati City and that the reference address of the owner, Eduarda, is 49 Polk St., North Greenhills, San Juan, Metro Manila. (Please see copy of the title in preceding post.)
The said parcel of real estate with a house on it, has a government assessed market value of more or less Thirty One Million Pesos (Php 31,000,000). It is common knowledge that the assessed value in government terms is not the necessarily always followed in real and actual transactions. It is therefore possible that the house and lot at Kawayan Road, with a total area of One Thousand Five Hundred Forty Two square meters (1,542 sqm) could be worth more than P31 Millions – closer in fact to between Php 38 - 40 Millions, since during the recently experienced slump in the real estate industry a 2,000 sqm property in the very same area is selling only at Php 50 Millions.
Furthermore, when the house was visited in Forbes Park, the people living in the area intimated that as far as they know, the house belonged to Sen. Pres. Drilon.
While it is true that the wife of Drilon was involved in the business of buying and selling houses, or renovating and constructing houses for sale, it appears odd that daughter Eduarda, whose would only be in her 20s or early 30s, would have the wherewithal to buy a house for an amount between Php 30 – 40 Millions unless her mother turned over her real estate business to her and that is now what she is doing either for a living or as a part time endeavor.
Granting that the daughter inherited the money from her father, Vic Genuino, the burden of proof is still upon her and her stepfather to show that the money with which she purchased the property can be shown by actual documents that make it evident that Vic Genuino, her biological father entrusted her with inheritance of between Php 20 – 40 Millions.
It cannot be said that the property belonged to Vic Genuino since it is in the name of Amalia Mata Montecillo who is a different entity altogether from both the late Vic Genuino and his surviving wife, now Mrs. Mila Serrano Drilon.
The question is who actually owns the house? Why did Drilon blubber over national radio when he was asked about it during a program? What is the connection between this highly expensive piece of real estate to the skim of Drilon from the Iloilo International Airport Project that he took under his wings during the regime of deposed Pres. Estrada.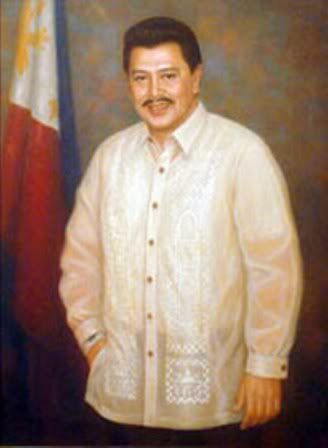 Drilon and Estrada are close neighbors and were former allies
If the house actually belongs to Drilon, he most certainly must be charged for falsification of public documents, a case that is commonly attached in the Philippines to graft, corruption, malversation of public funds and plunder among other similar crimes.
It also shows that as a public figure who has been making motherhood statements about Truth and criticizing deceptions and lies of fellow government officials, Drilon's character is also seriously flawed to the extreme and the excesses of his lifestyle demands that he spends more than he is actually earning.
In the midst of his working very hard to acquire tremendous amounts of money, Drilon told media: "I'm very lucky I got married again. I'm happy that it happened the way it happened. I wouldn't have it any other way. . . I am truly blessed. Meeting Violy (his first wife) years ago and the life we had together made me a better man, and that's something I can share with Mila and our children."
Indeed, our incumbent Senate President may be a blessed and lucky man. But the proverbial Sword of Damocles hangs over his head on the pending investigation of the charges of anomalies in the Iloilo International Airport Project. And now, there is a question in the public mind over how his very young stepdaughter was able to get her hands on a huge amount of money to buy a prime estate in Forbes Park.
Considering that Batas Pambansa 195 that amended Secs. 8, 9, 10, 11, and 13 of Republic Act 3019, otherwise known as the Anti-Graft and Corrupt Practices Act specifically provides that : (emphasis supplied)
"If ... a public official has been found to have acquired during his incumbency, whether in his name or in the name of other persons, an amount of property and/or money manifestly out of proportion to his salary and to his other lawful income, that fact shall be a ground for dismissal or removal. Properties in the name of the spouse and dependents of such public official may be taken into consideration, when their acquisition through legitimate means cannot be satisfactorily shown."
there appears to be valid grounds for applying sanctions against Sen. Pres. Drilon if the charges are proven so that the public may be assuaged over the irregularities that the country's Senate President may have committed whether during his term as head of the Senate or as a top functionary in the labor and justice departments, or in the Office of the Executive Secretary.
Bearing in mind that the good senator is aspiring to become President of the Republic of the Philippines vice Her Excellency Gloria Macapagal Arroyo and Vice President Emmanuel De Castro, whom the allies of the senator are presently trying to oust from power – through pressure for the President and Vice President to resign or by means of an armed, violent uprising – the Senate President is certainly suspect for trying to insert himself into the most powerful position in the land perchance to later be free of the Damocles' sword hanging over his head from the pending investigation on the alleged anomalies concerning the Iloilo International Airport Project and the dubious acquisition of prime real estate properties in such enclaves of the rich as the Forbes Park.
With people like Drilon and his present close ally, Mrs. Corazon Aquino trying to destroy the country's institutions but coming in dirty, we wonder where is the country headed for?